Hybrid-Detect

Wingspan: 3400 mm
Length: 1480 mm
Wing airfoil: MH32
Stab airfoil: NACA 63 A009
Kit Weight: 1200 g
Control: Elevator, Rudder, Flaps, Optional-4 Ailerons!
This High-Tech F3J Competition Glider is manufactured from the finest materials, making it possible to achieve a weight saving of almost 400 gm when compared to other F3J models.

The HYBIRD fuselage is constructed from a special Carbon / Kevlar cloth to produce an extremely strong and light fuselage. An electric fuselage is available with a removable nose cone complete with integrated battery holder. The three-piece wings ensure the model is easy to transport. The tip panels are constructed in an open rib structure of selected balsa. Each rib is fitted with a carbon cap strip. The Carbon / Kevlar D-Box and Carbon Spars combine to produce an extremely strong, stable and rigid wing. The tip panels are covered in Oracover producing a wing of extremely low weight, which would be extremely difficult for the private model builder to achieve. An outstanding competition model, which is suitable for the expert and the sport pilot.

You may order the version of a fuselage with a Cross-tale. This version only on 10g. is heavier than the standard version.


Version of fuselage with a cross-tail. €654.00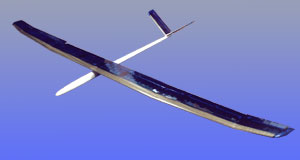 Available options
Fuselage
Electro nose
Diameter: 45 mm, fit up to 18 GP3300 cells or 22 2/3 SC cells
Wings type
Two ailerons per wings
addititional ailerons on wing tips (3 servos per wing)
Raised wings tips
Raised wings tips (second V-form)
Soprano's wings tips
Light wings tips (carbon tube spare) - foto
Tail type
Cross tail
Cross d-box all-moving tail
V-Tail
V-tail d-box.
V-Tail (Electro)
V-tail d-box with place for servo installation.
Colours
Oracover lite, transparent
Yellow, red, blue and violet
This sailplane is called the Hybrid due to the combination of several construction techniques to make this sailplane into the remarkable performer it seems to be.
The leading edge of both the wings and V-tails are fully molded hollow core with a blended Carbon fiber and Kevlar cloth.
This D-tube is finished with a triple reinforced full length and depth spar for maximum strength.
The epoxy glass, CF, and Kevlar fuselage of the Hybrid is a wonderfully crafted, streamlined beauty that sports a pylon mount for lowered drag and a nosecone for ease of entry and strength.
The fuselage is prepainted and comes drilled and fitted for the 3-piece wing.