Hybrid DBox

Wingspan: 3140 mm
Length: 1480 mm
Wing airfoil: MH32
Stab airfoil: NACA 63 A009
Kit Weight: 1140 g
Control: Elevator, Rudder, Flaps, Ailerons
The Hybird is the super floater you have always dreamed of and it offers a new dimension in large lightweight Soarers. At 3,15 metre span the model has a kit weight of "only" 1100g. The slim Carbon / Kevlar fuselage has removable nose cone and inner nose boot. The "D" Box Hybrid has raised the standards to a new level, and reaches levels previously unequalled in strength versus weight. The three-piece wings and removable Vee tail ensure the model is easy to transport. The wing panels are constructed in an open rib "D" Box structure, each of the selected balsa ribs is fitted with a carbon cap strip, the Carbon / Kevlar "D"-Box and Carbon Spars combine to produce an extremely strong and rigid wing. The flaps and ailerons are knuckle jointed with three-point hinging for aerodynamic efficiency and low overall weight. The wings are covered in Oracover and are designed for competition style launches by winch or two-man tow. The two-piece removable Vee tailplane is of similar construction to the wing. This model is the culmination of many years of experience in this type of construction. The MH32 wing section gives the model an extremely wide speed range and excellent thermal flight characteristics. The handling is outstanding and the model will hold a turn as if it were on rails but will change direction at will due to the lightweight tip panels.

Available options
Fuselage
Electro nose
Diameter: 45 mm, fit up to 18 GP3300 cells or 22 2/3 SC cells
Wings type
Raised wings tips
Raised wings tips (second V-form)
Soprano's wings tips
Light wings tips (carbon tube spare) - foto
Tail type
Cross tail
Cross d-box all-moving tail
V-Tail
V-tail d-box.
V-Tail (Electro)
V-tail d-box with place for servo installation.
Colours
Oracover lite, transparent
Yellow, red, blue and violet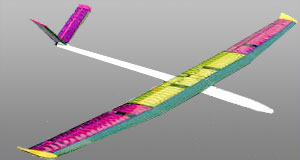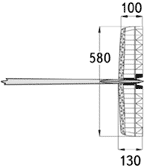 This sailplane is called the Hybrid due to the combination of several construction techniques to make this sailplane into the remarkable performer it seems to be.
The leading edge of both the wings and V-tails are fully molded hollow core with a blended Carbon fiber and Kevlar cloth.
This D-tube is finished with a triple reinforced full length and depth spar for maximum strength.
The epoxy glass, CF, and Kevlar fuselage of the Hybrid is a wonderfully crafted, streamlined beauty that sports a pylon mount for lowered drag and a nosecone for ease of entry and strength.
The fuselage is prepainted and comes drilled and fitted for the 3-piece wing.